Farming
Amsterdam's Cannabis College: Public Cannabis Education
Cannabis College started from humble beginnings and is now an icon for the public to learn about cannabis. Founded by Henk Poncin and funded by donations and funded by Sensi Seeds, the college has grown into a center for public lectures, gatherings, and even cannabis-release parties.
Since opening in the late 1990s, the Cannabis College has offered cannabis education to the public from its beautiful canal house in the heart of Amsterdam. Cannabis College offers a unique opportunity to explore the world of cannabis, from walk-in questions to bespoke courses on cannabis botany, history and therapeutic uses.
Cannabis college didn't start without challenges. At first, the city government refused to give permission to sell, and the college was forced to find investors to keep afloat. Just a few years after it opened, the back of the college – the location of its library and information center – was struck by fire.
Whenever the Cannabis College faces a political or economic challenge, it stays true to its manifesto and remains a safe haven for public cannabis education.
Let's take a look at the history of Cannabis College and the wonderful things you can experience there.
About the cannabis college
Founded in: 1997
Founded by: Henk Poncin and members of the activist group Green Prisoners Release
Address: Oudezijds Achterburgwal 124, 1012 DT Amsterdam, The Netherlands
Website: https://cannabiscollege.com/
Facebook: https://www.facebook.com/SativaCollege/
Instagram: https://www.instagram.com/thecannabiscollege/
The Cannabis College was founded by Henk Poncin, a Dutch national who was also a member of the Green Prisoners Release. This activist group campaigned for the release of those wrongly detained for crimes related to cannabis. The group was particularly active in the case of Les and Cheryl Mooring, who sought refuge in the Netherlands after being arrested in the United States for growing cannabis.
In 1997, Henk Poncin combined his activist background with a desire to provide cannabis education to the public, and the Cannabis College was born.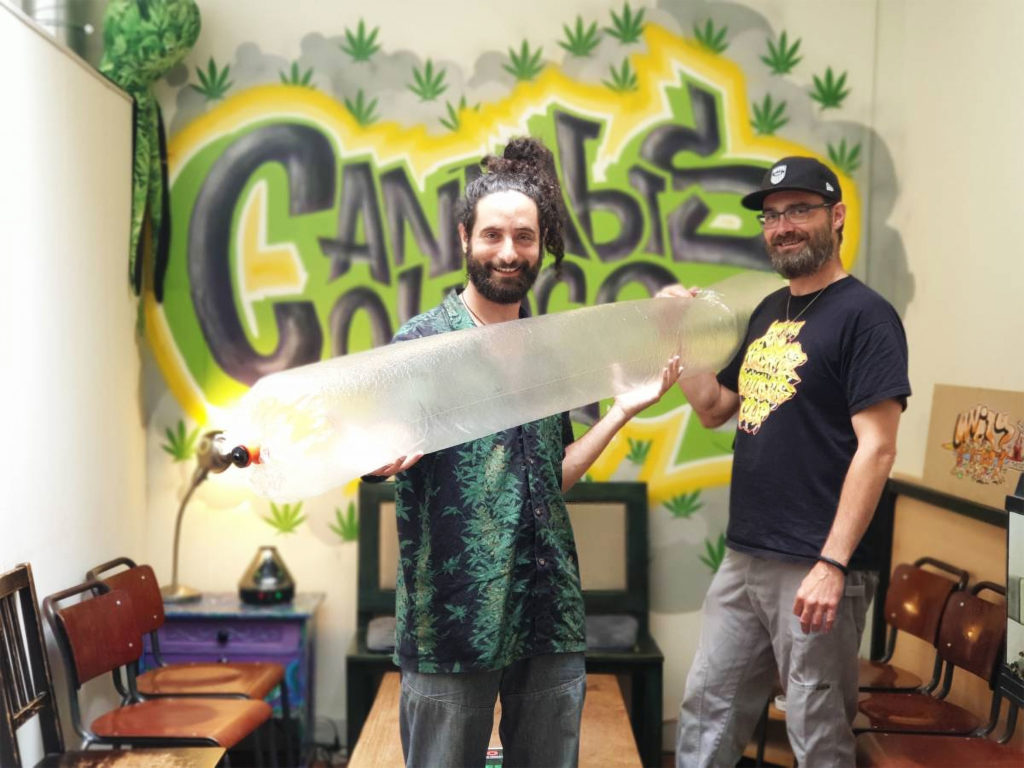 The college offers all kinds of courses, from short to more in-depth courses and even training for coffee shop staff. The public can be educated about cannabis botany, cannabinoid science, and even the history of cannabis use and culture.
Entry to the college is free, and regardless of whether visitors are cannabis users or not, everyone is welcome. Recreational users can receive guidance on how to identify contaminated or dangerous cannabis, while medical users can receive information on using vaporizers instead of smoking.
The college even has its own cannabis garden in the basement that the public can visit and take photos for for a donation!
Rough beginnings for cannabis college
The expected opening date for the Cannabis College was 1997. However, the Amsterdam city government declined to give the Cannabis College a sale permit. This made it difficult for Poncin to continue funding the college as renovations and prep had drained the budget.
Eventually a generous investor named Eddie, a contemporary of Ben Dronkers and one of the Netherlands' other original seed breeders, donated what the Cannabis College needed to keep it running. With this donation, the college was able to open its doors, give classes and generate income to keep it operational.
In the summer of 2002, the Cannabis College information center was destroyed by fire. This area had been a library and archive that visitors and staff could consult to find answers to all kinds of cannabis questions. It took months of renovation to restore it, but the college eventually reopened with a fresh look, brand new cannabis garden, new merchandise, and a new website.
Education as Activism
The main manifesto of the Cannabis College is that education is activism. The next necessary step in the development of cannabis legalization is public education. Cannabis College prides itself on providing truthful, accurate and up-to-date information about cannabis.
Cannabis College has hosted training courses, medical lectures for people in the public health sector, cannabis-release parties, poetry readings, movie premieres, and even university lectures. Public gatherings for the purpose of cannabis education are the most powerful way that the Cannabis College participates in cannabis activism in the Netherlands.
The Cannabis College aims to provide the public with enough information to make informed decisions about policy reform. With the right education, the public can actively participate in reforming future cannabis policy.
Visit, look, learn
There is a lot to do at Cannabis College, whether you are a local or a tourist. Here are some of the things you can do at Cannabis College: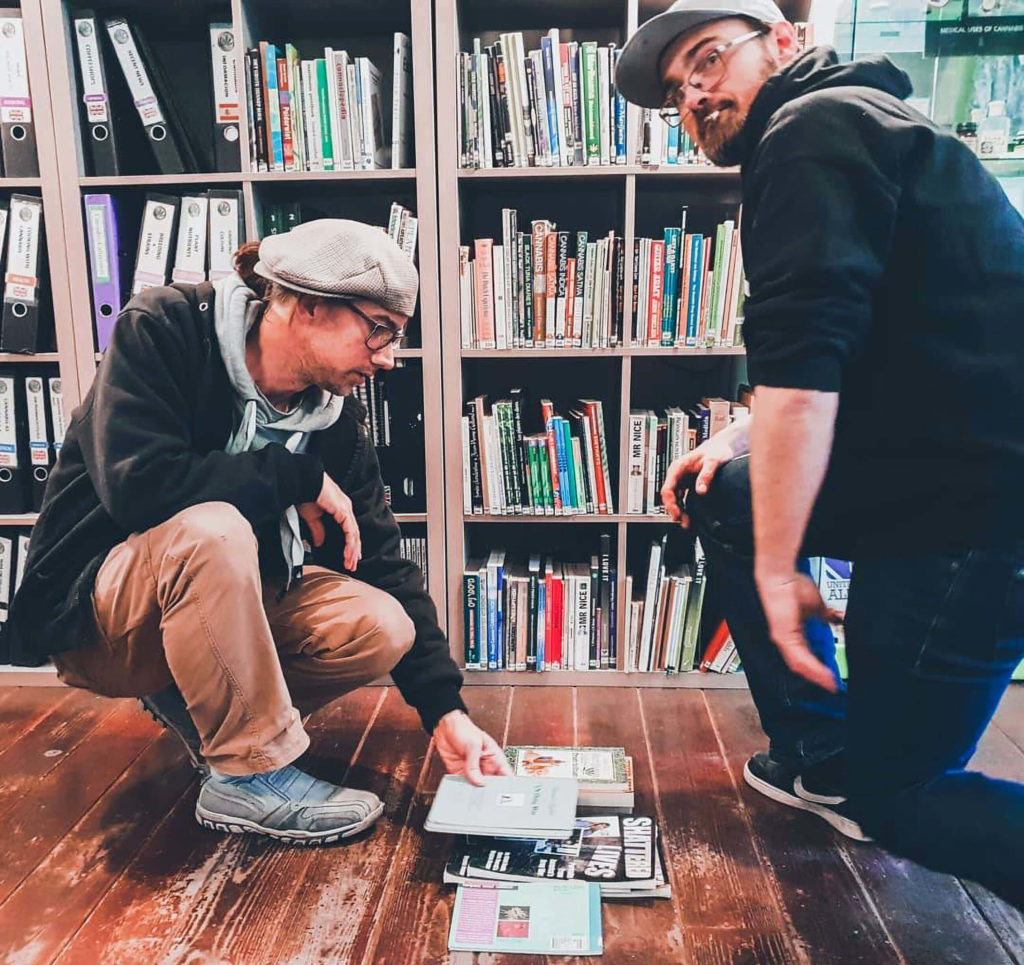 Visit for free and visit the library
People are completely free to attend cannabis college to walk around asking questions and checking things out. For a small donation, you can also visit the cannabis garden and take photos of the plants.
The Cannabis College houses an open library area with a selection of literature and digital media on cannabis. Books are available in Dutch, French, Spanish, German, English, Italian and even in Japanese, Hebrew, Polish, Russian and Norwegian. It is a unique resource that everyone can enjoy and consult.
Take a day course or a long course
If you book in advance, you can take a day course or a long course at Cannabis College. You can learn about the pros and cons of various cannabis use methods, cannabinoid science, medicinal uses, and the culture and history of cannabis use. Staff training is offered for cannabis companies such as coffee shops.
Whether you are just curious or want to work in the industry, Cannabis College offers you up-to-date education.
Check out the calendar and attend an event
The Cannabis College regularly hosts cannabis education events. These can be lectures, movie screenings, or even parties to celebrate the release of a new strain of cannabis. It's a great way to meet people in the industry and those who are also passionate about cannabis.

Get your cannabis tested
The Cannabis College also conducts tests on cannabis samples for the general public. It is one of the few places in the world that offers this service.
For € 25 they will test for the six most important cannabinoids (THC, THCV, CBD, CBN, CBC and CBG). Regardless of whether you have buds or a cannabis product like extract, you can have its effectiveness and whether it is contaminated or not, professionally verified. For € 50 you can get a full microscopic analysis of your product.
The Cannabis College is a hub for safe and effective cannabis information. It is one of the few places in the world where people can get accurate and professional education about cannabis. Amsterdam Cannabis College is one of two in the world. The other is in California and is called Oaksterdam University, although it is not affiliated with the Cannabis College.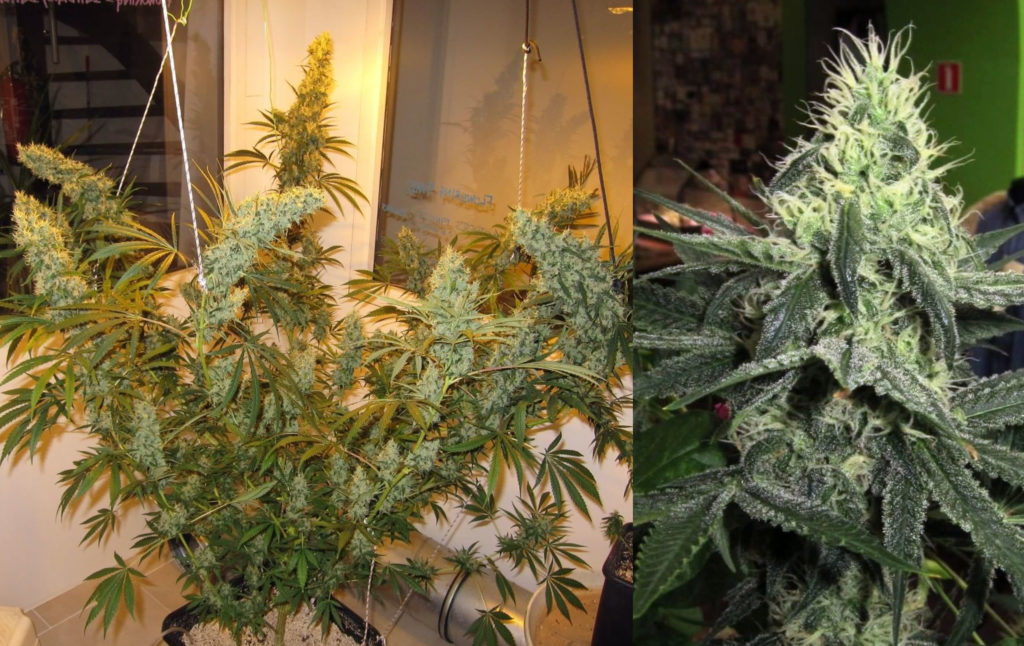 Cannabis College reminds us that legalization doesn't happen without education. This is absolutely critical to the future of cannabis. Head to Cannabis College today to get your education, explore the garden, or just meet like-minded people.
When you visit, don't forget to stroll around the corner to the Sensi Seeds Cornershop or across the canal to the original Sensi Seed Bank to invest in some cannabis seeds, then explore the Hash Marihuana & Hemp Museum for inspiration to let!